A Straightforward Process
The process of building a deck is a somewhat straightforward and linear process and can be completed fairly quickly and efficiently by an experienced decking contractor. At EXOVATIONS®, we have built countless decks for clients and have mastered the process from beginning to end.
From our experience, we have found that the project goes a great deal smoother and allows for better communication when the client has an understanding of the steps involved in the building process. In order to facilitate that understanding, the process of building a deck is outlined below in four steps.

Design & Materials
Building Permits
Preparing
Building
Selecting Design and Materials
Before beginning, a solid blueprint should be in place and selected deck materials should be sourced and priced.

Obtaining Necessary Building Permits
Depending on your municipality, you will more than likely need a construction permit before starting the project. Before a permit is issued, you will have to submit the deck plan and have it approved. Often times, the contractor will handle the necessary permits but make sure that the builder knows that they are expected to get the permits in order to avoid any confusion.

Preparing the Site
Preparing the site for your deck involves a variety of steps. The builder will:
Outline shape of the deck with string
Remove any sod
Make sure there are no underground services in digging area
Locate positions of piers and footings
Dig holes for footings and piers
Prepare the soil with landscaping fabric
Building Out
During the building stage, the deck will be completed gradually through these steps:
Setting the Footings
Installing Ledger Board
Installing Support Posts
Attaching the beams
Installing the joists
Nailing decking boards
Trimming the decking
Installing additional features such as railing, stairs, and staining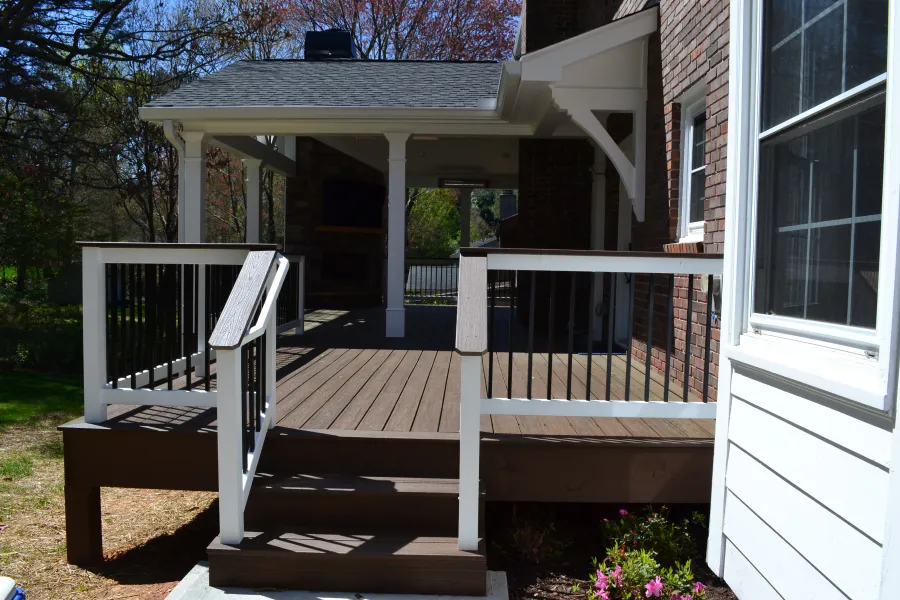 All That's Left to Add
After the completion of the deck, all that is left to add is the furniture and family. While the steps to building a deck are simple, the execution is sometimes anything but. A good contractor with extensive deck building experience has mastered these steps and as such is able to complete them in a timely and efficient manner. At EXOVATIONS, we are committed to making your project go as smoothly as possible and look forward to bringing our experience to your deck design so that you can enjoy it as soon as possible.
If you are thinking about building a deck, leave nothing to chance. Hire an experienced contractor and leave the heavy lifting to the professionals.

If You're Thinking About Building a Deck
Leave Nothing To Chance.
Hire an experienced contractor and leave the heavy lifting to the professionals.
See your New Deck before You Commit with Exovision™
EXOVISION™ allows clients to see what their home will look like with their new deck through EXOVISION. If the client decides to use EXOVATIONS contractors for the renovation, the EXOVISION fee will be deducted from their price.

View Our Work
Check out our customer deck installation reviews and browse through some before and after deck photos to get a better idea of our work. If you would like to learn more about installing Deckbrella for your home, contact us today!