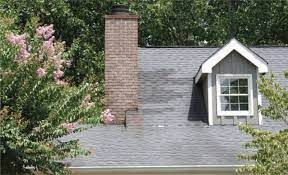 Over the last couple of years, you may have seen local news coverage about alleged defects in common lines of asphalt roofing shingles produced by some of the country's best known manufacturers. The claims primarily involve two brands: Atlas Roofing's "Chalet" line and Owens Corning's "Supreme" shingle.
Both these companies offer quality, dependable roofing products, but these two lines were apparently not up to their usual high standards. Many consumers and roofing specialists say the products are defective and do not perform as warranted. According to a class action lawsuit against Atlas, the Chalet line is susceptible to water penetration which leads to premature blistering, cracking, and excessive loss of granular surface. Some Atlas Chalet roofs were found to have extensive damage as soon as one year after installation. Similarly, the Owens Corning Supreme shingles are said to suffer from premature pitting and granule loss, leading to roof failure and leaks, with some homeowners facing complete replacements of roofs less than five years old.
Neither product has officially been recalled. In 2010 Atlas discontinued the Chalet line, which had a 30-year limited warranty against manufacturer defects; Owens Corning continues to sell the Supreme three-tab shingle, which carries a 25-year limited warranty. Amidst the allegations of product failure, stories are surfacing that the manufacturers may be delaying reimbursements or refusing to honor warranties, denying there are manufacturing defects in the products.
Both of these three-tab shingles were popular with homebuilders here in the Southeast, and they were used on thousands of Georgia homes over the last ten to fifteen years. Around the Atlanta area, the Atlas Chalet shingles were especially common from about 2000 until they were discontinued in 2010, because they looked similar to high-end architectural shingles, but were more affordable.
The reports have left many worried homeowners scrambling to figure out whether their homes are affected. If your roof is showing signs of premature damage, you are probably asking questions like: How can I find out what shingles I have? If I do have these shingles, will the manufacturer's warranty or my homeowner's insurance cover a roof replacement? Should I replace the whole roof, or just the shingles that are damaged? Do I have a valid claim, even if I'm not yet experiencing a leak?
Recent News Coverage on Atlas Chalet Shingles
Some Things You Can Do
Have your Roof Inspected: Unless you stored away any extra shingles when your roof was applied, it may be difficult for you to determine what shingle is on your home. If the age of your roof coincides with the availability of these products, and you believe your shingles are failing, you can hire a state licensed home inspector or roofing contractor to take a look, or you can request that your insurance company send out an inspector. These professionals can identify the shingles without causing additional damage; you don't want just anyone climbing around on your roof.
They can also inspect the condition of the shingles to see if notable damage is present. If they do see damage, they will tell you whether it appears to be weather-related, or whether there is widespread shingle failure that appears inconsistent with the age of the roof (i.e. your shingles exhibit signs of the pitting, blistering, and cracking described above). Wind and/or hail damage from a storm are often isolated to just one side of a roof, whereas uniform damage all over a roof could be a signal that the shingles are defective.
Contact the Manufacturer: If you are the home's original owner (or you have previously replaced the roof since owning the home), try to work through the manufacturer to make a claim based on the product warranty. In considering your claim, the manufacturer will want to know who installed the roof, and whether they were manufacturer-certified, so pull together as much information as you can before contacting the company. Carefully read through your manufacturer's warranty so you are clear on what it covers. And since most manufacturer's warranties only cover the cost of replacement shingles, be prepared to pay for other materials and the cost of installation yourself.
Contact your Insurance Company: If you get nowhere with the manufacturer (or you are not the original owner of the roof, which usually invalidates the warranty), you may wish to file a claim with your homeowner's insurance. Regardless of the type of shingles on your roof, if your insurance adjustor determines there is significant, widespread damage, they may cover the cost of full roof replacement. If damage is isolated to a small area, the insurer may only offer to cover a repair using a matching material. Since the Atlas Chalet shingles are no longer manufactured, there is no way to match the original material, and this may help you make the case for a full tear-off replacement. According to State Insurance Commissioner Ralph Hudgens in the Fox5 news report, if your Atlas Chalet roof shows signs of damage due to hail or wind, and roofers cannot get a suitable match for the shingles, the insurance company should foot the bill for a complete roof replacement. (Be aware, however, that at least one insurer has reportedly refused coverage for homes with Atlas Chalet shingles.)
During the process, be wary if an unsolicited roofing business approaches you about inspecting your roof or offers to handle the processing of your insurance claim. DO NOT sign anything that allows a roofing company to act as your representative. You should deal directly with your insurance adjustor, and any checks from the insurance company should be made out to you, not to the roofing contractor. For more information on the "dos and don'ts" of making an insurance claim for your roof, read our earlier article, "8 Things Homeowners Must Know About Hail Damaged Roofs."
Still Have Questions?
If you still have questions, we are here to help. EXOVATIONS has been a state licensed roofing contractor for more than twenty years. We proudly use roofing products from GAF, which we have found to be the best quality roofing systems and shingles available, and we are certified as a GAF Master Elite roofing contractor.
.