Solving Remodeling Needs
With a Stress-Free Experience
EXOVATIONS® solves homeowners' exterior remodeling needs with creative solutions, combining curb appeal with durability. We create exteriors for looks and for life, using materials that are no or low maintenance and come with excellent warranties. From start to finish, our remodeling process focuses on creating a stress-free experience for our customers.
EXOVATIONS is a Georgia state licensed residential general contractor, an EPA approved lead-paint certified contractor, and we are trained, certified and preferred contractors by the manufacturers of the materials we install.

25 Years in the Making
Company owner Roone Unger began doing business in April 1996 under the original name of "Builder's Exterior Design." At that time, the company's focus was in serving builders and contractors in the Atlanta area with their exterior product installation needs, mainly siding, cornice, and shutters.
At the request of our builder and contractor customers, we began working with their family, friends, and neighbors' home exteriors. From there, our customer base surged, our renovation business exploded, and our products and services broadened.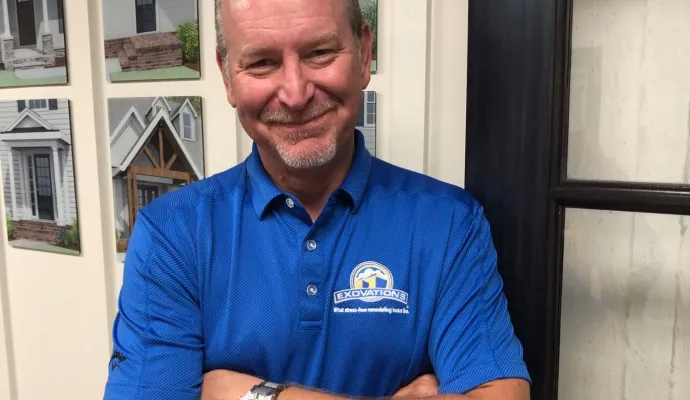 View Our
Licenses & Certifications
Learn How EXOVATIONS Was Built
An Interview with EXOVATIONS' President and Company Co-Founder, Roone Unger
Q
How did the company get started?
A
In 1996, I was working for a large privately held building material supply company in Atlanta that was sold to a large corporation and had a lot of structural changes happening. I left with two of my co-workers, Bitsy Lee and Mary Battle, to start our own business under the original name, Builders Exterior Design.
We began as a turnkey siding company for large production homebuilders. After the first year, we hired our current sales manager to begin our remodeling division. My background is more on the remodeling side of construction than new homes. Our goal was to get a 50/50 mix of remodeling and homebuilder business.
Both divisions grew very rapidly, so we never achieved that mix. In 2008, after the collapse, we exited the new construction market, downsized and focused on our remodel business.
We know who we are and we don't stray from that. We provide and install roofing, siding, windows, doors, decks, gutters, gutter protection, porticos, and screen porches. It can be challenge when you are offered opportunities outside of these. We do many projects with numerous products so we actually transform the look of the home without any structural changes.
Q
What did you do before remodeling?
A
I started working part time at 16 years old for a large grocery chain. I worked there through high school and my brief college experience. I enjoyed working more than going to school, so I began working full time. The last job I held for them was as a butcher. I realized that my co-workers had been in the same position for more than 10 years so I turned in my notice. I took a job working for an aluminum siding company in sales. I sold the company's largest deal at more than $40,000. I left after two years to take a sales position with a large overhead door company and was promoted to the residential division manager. There, I met and hired our sales manager, who later joined me here. I left there to work for the building material supply company.

Q
Is this your first business?
A
Yes, when I started working for the building material supply company, they hired me to start the installed products division of the business. This was very similar to starting and running a business. However, it was a business within a business, so there was not much personal risk.

Q
What steps did you take to get your business off the ground?
A
I made sure we had the capitol to start and run the business. Also I entered partnerships with people I could trust and I knew would work as hard as me.

Q
How have you used these components to "grow" your business?
A
Over the years, we have developed very specific processes for every area of our business and continue to try to improve on those processes. We also have developed technology to support these processes. Our processes take us from building our lead database through our marketing program, scheduling a sales appointment, presenting a detailed proposal, to closing the sale. Our production system includes a scheduling system for our project manager that details the exact date material will be delivered, when each crew begins work to final inspection with the customer and final payment. We complete more than 1200 projects a year in our Atlanta location.

Q
How has the remodeling profession changed since you've been involved?
A
I think one of the biggest changes in our industry is how much information is available to the consumer. With the growth of information on the Internet and home improvement television shows, consumers can find huge amounts of information for any project. We think that is a positive for us. We want to deal with educated consumers who do their research and understand the process involved with their project. We spend a lot of time training our consultants on product offerings and installation practices so they can be a valued asset to the customer.

Q
What's the best career advice you've heard?
A
I wish I could remember all the advice I was offered during the early years. A builder friend of mine told me, "You will make mistakes—but make them for the right reasons." I joined a peer group about two years ago that consists of other remodelers around the country. We share everything about our businesses with each other. Their advice and insight has been invaluable. I wish I would have done that 10 years ago. bottom line. We gained market share, and as the market has started to increase, we have grown significantly.

Q
What motivates you every day?
A
I enjoy running the business. I am blessed to have managers that have been with us for 10-plus years, who are dedicated and focused on our goals. Many of them started as carpenters and we have been able to offer them opportunities for advancement. I want our business to grow so we can continue to offer our employees opportunities for growth.

Q
What's your biggest career accomplishment?
A
The fact that we survived the recession when many good companies didn't is our most significant accomplishment. This is not a career accomplishment, but a company accomplishment and the one I am most proud of.

This is an excerpt from an article published by NARI on August 11, 2014, titled: "How I Built My Business: EXOVATIONS."

Add Outdoor Living Space to Your Home
With Beautiful Decking!