Best Facelift Award
2016
EXOVATIONS presents the best exterior facelift award winner selected by our customers.
Mewborn Home Wins Best Facelift of 2016
The votes are in! EXOVATIONS® customers and fans have selected the Mewborn home as winner of the 2016 Best Facelift Award contest. All 8 finalists received votes, but the Mewborn project ran away with it this year, capturing 65% of the vote.

This is the fourth year for this annual contest. Will your home be the winner for 2017?

Let's get started on turning YOUR HOME into YOUR DREAM HOME today!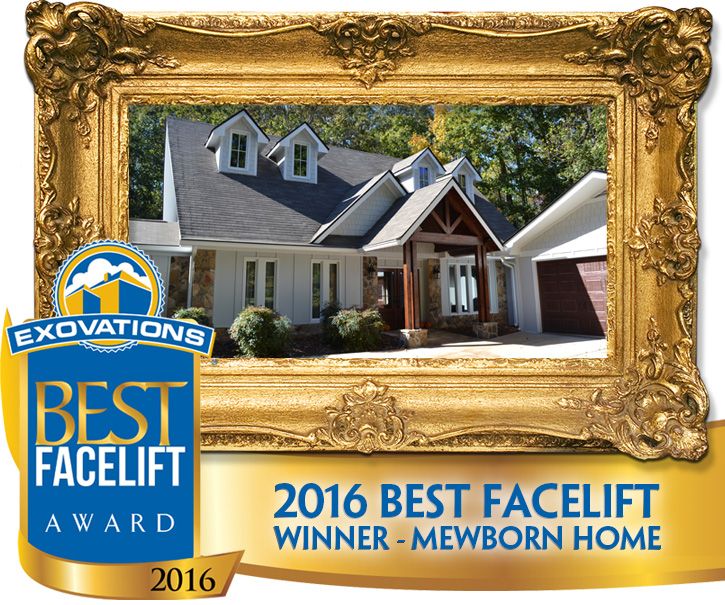 Mewborn Home Remodeling Details
Ms. Mewborn purchased her Sandy Springs home knowing that the exterior would have to be changed. She called in the EXOVATIONS team to discuss how an exterior facelift could achieve the desired appearance for her home. Working with our in-house Architectural Designer, Ms. Mewborn could not believe the possibilities for her home's new look and hired us to dig in. EXOVATIONS did a complete renovation on the home's exterior, including removal of the synthetic stucco and replacing it with HardiPlank®, the construction of a dramatic new front portico - complete with tongue-and-groove wood ceiling and wood double doors, installing 4 new faux dormers and 4 new windows into what was previously a wall, application of stone accents, and painting. The entire project took 6 weeks, and according to Ms. Mewborn,
"... it looks amazing! Joy was my salesperson, and Jim was my project manager. Both were responsive, patient, and thorough. Thanks for an amazing transformation of my home!"
The Mewborn project included the following projects:
FRONT PORTICO & COLUMNS: A new gabled roof portico with cedar columns and stone bases, wood tongue-and-groove ceiling; and handsome wood brackets was added to become the new focal point of the home.

FRONT DOOR: The old single and sidelites were replaced with beautiful, wood double doors.

ADDITION OF 4 NEW DORMERS: In order to cut-up the look of the steep roof line, 4 dormers were constructed with windows and HardiPlank shingle shakes.

SIDING: All of the failing stucco was removed and replaced with durable HardiPlank vertical siding and gable accents of HardiShingle shake.
SOFFIT & FASCIA: Replaced fascia and soffit with durable James Hardie fiber cement soffit and fascia.

PAINT: Pressure washed, primed, sealed and painted all surfaces in an updated color palette selected by the EXOVATIONS' color stylist.
Get
Inspired!
Thinking about remodeling your home's exterior? Need ideas? Take a look through our photo gallery to see some of our clients amazing home exterior transformations.