Best Facelift Award
2018
EXOVATIONS presents the best exterior facelift award winner selected by our customers.
Rivera Home Wins Best Facelift of 2018
The votes are in! EXOVATIONS® customers and fans chose the Rivera home (Finalist #7) as winner of the 2018 Best Facelift Award contest. Three of the finalists captured the most votes, The Podgorny home (Finalist #6) and the Smith home (Finalist #8) both tied for second, each with 19% of the vote. The Rivera home earned the top spot with 51% of the votes.
This is our 6th year for the contest. Will your home be the Best Facelift Award winner for 2019? Let's turn YOUR HOME into YOUR DREAM HOME today!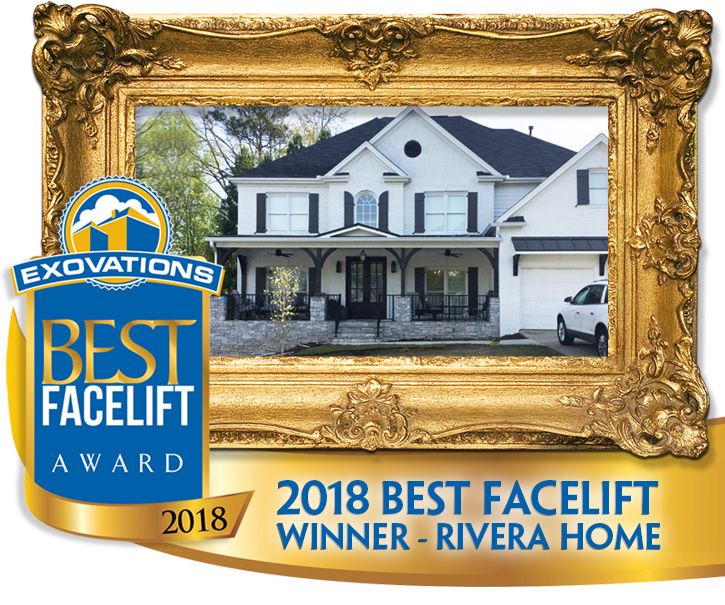 Rivera Home Remodeling Details
Working with our in-house Architectural Designer, the Rivera's selected the design for their home's new look. EXOVATIONS did a complete facelift on the home's exterior, which included the construction of a Lodge-style front porch, replacing the old single door, sidelites and transom with gorgeous, wood double doors, adding a decorative standing seam metal roof above the garage door mounted with handsome wood brackets, and updating the shutters to board and batten style hung with real rod iron hardware and S-hooks. Perhaps the biggest change came from their decision to paint the brick, which completed the look they were seeking and definitely makes their home an absolute stunner and winner of this year's Best Facelift Award!
The Rivera project included the following projects:
FRONT PORCH & COLUMNS: A new Lodge-style portico with wood colums & brackets and stacked stone bases, black metal railings, stacked stone stoop and stairs and a standing-seam metal roof with small gable. New light fixtures and ceiling fans were selected by the customer and installed by EXOVATIONS.


FRONT DOOR: The old single steel door with sidelites and transom was replaced with beautiful, wood double doors.


DECORATIVE GARAGE EYEBROW: To provide another feature on the front facade, a decorative eyebrow with wood brackets matching those on the front porch was added over the 2 single garage doors.


SHUTTERS: Replaced old vinyl panel shutters with updated composite board and batten style shutters with s-hooks and iron hinges.


PAINT: Pressure washed, primed, sealed and painted all surfaces, including painting the old red brick, in an updated color palette selected by the EXOVATIONS' color stylist.
Rivera Home Remodeling
Take a closer look at the details...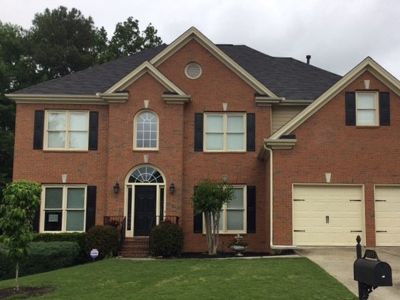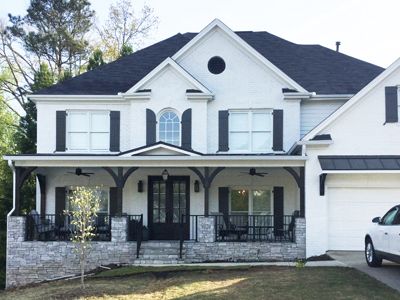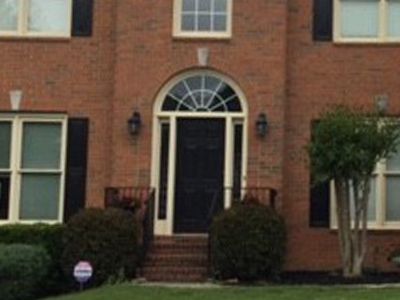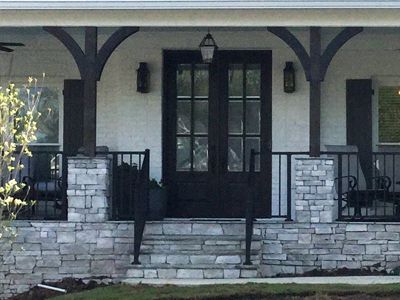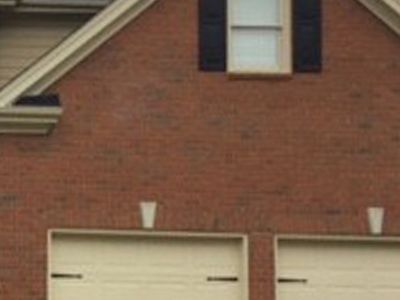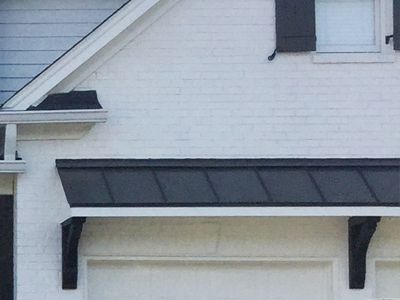 Get
Inspired!
Thinking about remodeling your home's exterior? Need ideas? Take a look through our photo gallery to see some of our clients amazing home exterior transformations.