Best Facelift Award
2019
EXOVATIONS presents the best exterior facelift award winner selected by our customers.
Lowe Home Wins Best Facelift of 2019
The votes are in! After our first ever run-off, EXOVATIONS® customers and fans chose the Lowe home (Finalist #3) as winner of the 2019 Best Facelift Award contest.
This is our 7th year for the contest. Will your home be the Best Facelift Award winner for 2020? Let's turn YOUR HOME into YOUR DREAM HOME today!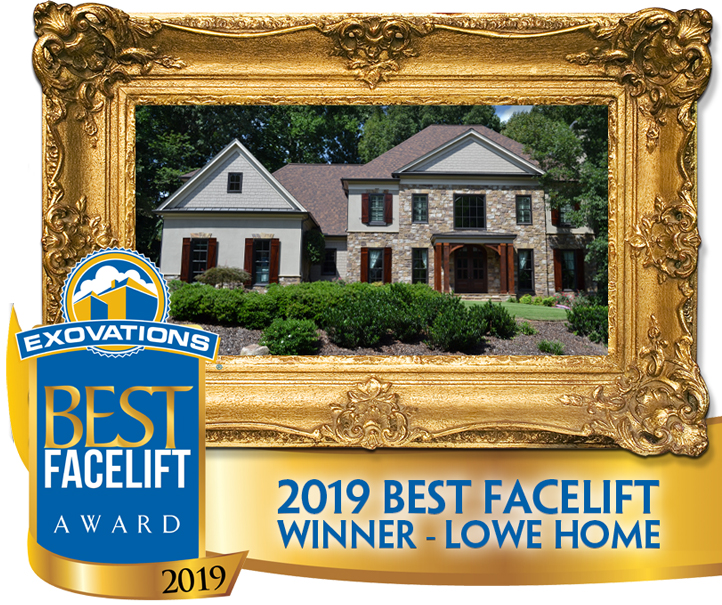 Lowe Home Remodeling Details
The Lowes wanted to make their home's exterior more warm and inviting. There was just one small problem ... they each preferred a unique style that was not like the other. EXOVATIONS was asked to create design options that combined the best of both ... in a Rustic Lodge / French Country blend. Working with our team, the Lowes selected a design they both loved, followed by a remodeling experience they actually enjoyed and a completed project that delivered what they wanted and more. And now, they are winners of the 2019 Best Facelift Award!

The Lowe project included the following projects:
FRONT PORTICO & COLUMNS: We designed and installed a new portico with cedar wood colums & cedar brackets, stacked stone stoop and stairs and a standing-seam metal roof. New light fixtures were selected by the customer and installed by EXOVATIONS.


STONE & FIBER CEMENT SIDING: Removed most of the stucco from the home, leaving just a few areas to breakup the new stone and siding additions. Installed beautiful Horizon ledgestone on the center section of the home, right of the front entry and along the watertable. We also added decorative HardieShingle Shake fiber cement siding to accent in large front gables and the area left of the front entry.


WINDOW PEDIMENTS: The stucco window pediments were removed and replaced with elegant stone window pediments.


WINDOWS: Round windows were re-framed for rectangle shaped windows and the old half arch window in the middle dormer was removed to provide a more modern look.


PAINT: Pressure washed, primed, sealed and painted all surfaces in an updated color palette selected by the EXOVATIONS' color stylist.
Get
Inspired!
Thinking about remodeling your home's exterior? Need ideas? Take a look through our photo gallery to see some of our clients amazing home exterior transformations.