Fiber Cement Siding
Shouldn't the next time you re-side your home be the last time? Fiber Cement siding products installed by a certified contractor will do just that.
Fiber Cement Siding
Fiber cement siding is a composite material made of sand, cement, and cellulose fibers. While the actual composition of the siding varies by manufacturer, the goal is the same – to provide a durable, low-maintenance siding product with the natural look of wood. Once painted or stained, fiber cement siding takes on the look of real wood siding.
Beautiful & Brawny
fiber cement siding benefits
Impervious to termites and other wood boring insects
Will not warp or rot
Withstands freeze/thaw cycles
Non-combustible (will not ignite)
It is resistant to negative effects of salt spray and UV rays
It resists damage caused by hail, every day bumps and harmful impacts
Some manufacturers utilize over 50% of recycled content into their product, making it a very eco-friendly option
*NOTE: fiber cement siding is often referred to as Hardieplank siding, Hardie siding, Hardie board siding, Hardie plank siding, or Hardie plank siding, which are names associated with James Hardie Siding, a manufacturer of fiber cement siding.

Fiber Cement Siding Styles
Fiber-cement siding is available in several different styles and profiles. The most common is horizontal lap siding, but shakes/scallops and panel products are available to recreate several classic siding styles (board and batten, etc.).
Whether you are selecting fiber cement siding for its curb appeal or its low maintenance, it is a product that can update and increase the value of your home. Educating yourself on what products and installation techniques are applicable is a key way to making sure your project lasts a lifetime!
HardiPlank® Siding
EXOVATIONS® is proud to offer James Hardie HardiPlank® fiber cement siding as a certified contractor in the JamesHardie Preferred Remodeler program.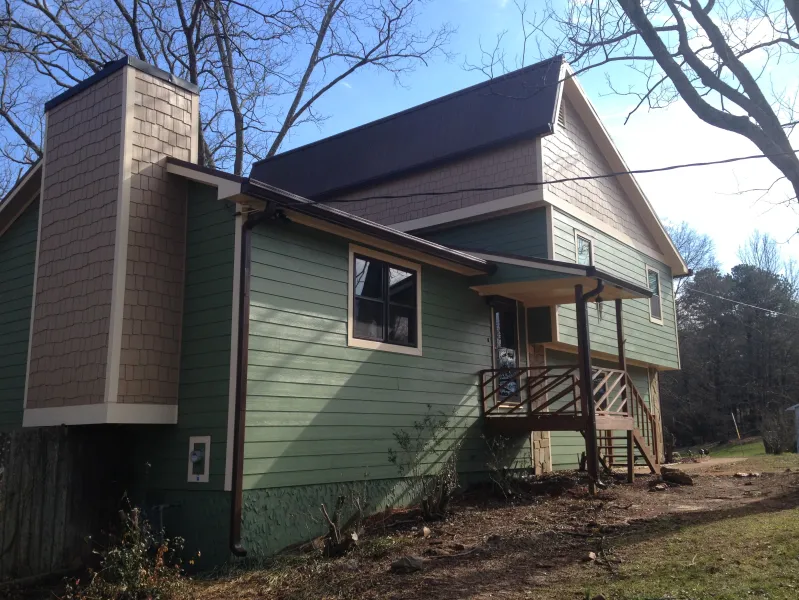 What makes fiber cement so durable?
Because of the properties of this product, manufacturers offer superior material defect warranties, with some warranties lasting up to 50 years.
In addition to siding products, fiber cement accessory and trim products are also available to replace existing overhangs (soffit and fascia) and corner boards. Combining these accessories with the multitude of other moldings and trims that are available today in non-rot materials can give you a long-lasting exterior that will require very little maintenance and give you long-term peace of mind.
What kind of home is a good candidate for fiber-cement siding? Certainly, homes that were built from the late-1970 to the 1990's with composite, hardboard or pressboard siding are great candidates. (How can I tell what type of siding I currently have?) Composite siding is reconstituted natural wood that is fabricated by reducing natural wood to fibers, adding resins, and then pressing the fibers together into panels. This type of siding is not to be confused with Hardie board siding, which is a common name given to the products of one of the manufacturers of fiber-cement siding. In addition, homes with existing wood siding or even stucco finishes are great candidates.
Add a Natural Look to Your Home
With Fiber Cement Siding
See your Fiber Cement Siding Before You Commit with EXOVISION™
EXOVISION™ allows clients to see what their home will look like with their new fiber cement siding before they commit to a contract. Clients consult with our renovation experts to decide on the best siding options for their home. They can then get a preview of what their renovated home will look like through EXOVISION. If the client decides to use EXOVATIONS contractors for the renovation, the EXOVISION fee will be deducted from their price.
View Our Work
Check out our fiber cement siding installtion reviews and browse through some sidng before and after photos to get a better idea of our work. If you would like to learn more about installing replacement siding for your home, contact us today!