Storm Damaged Roof
What to look out for when your home's been hit by a storm or hail.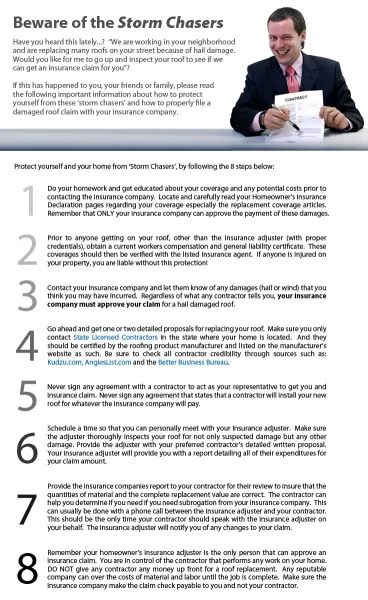 Storm Chasers
In the contracting business, we call contractors who follow storms, 'Storm Chasers.' Although they may give you a price that is very hard to turn down or offer to meet any insurance company's pay out, even including the deductible, they can become the cause of the most expensive roof that you could ever buy.
There are currently many stories (substantiated by your local news providers) of very large and small roofing companies that are in bankruptcy or even have company officials in jail due to unscrupulous business practices, taking advantage of homeowners. And, there are too many stories of homeowners having liens filed against their homes even after their contractor has been paid because the contractor failed to pay the supplier of the materials.
See your Roof and Renovation Before You Commit with EXOVISION™
EXOVISION™ allows clients to see what their home will look like with their new shingles before they commit to a contract. Clients consult with our renovation experts to decide on the best replacement roof for their home. They can then get a preview of what their renovated home will look like through EXOVISION. If the client decides to use EXOVATIONS contractors for the renovation, the EXOVISION fee will be deducted from their price.
View Our Work
Check out our customer roof replacement reviews and browse through some roofing before and after photos to get a better idea of our work. If you would like to learn more about installing a new replacement roof for your home, contact us today!