Lancaster Style
Portico
Add a touch of classic architecture and charm to your home with the Lancaster portico style. With its round columns and standing metal seam roof, the Lancaster portico is a timeless look that complements brick or siding clad homes.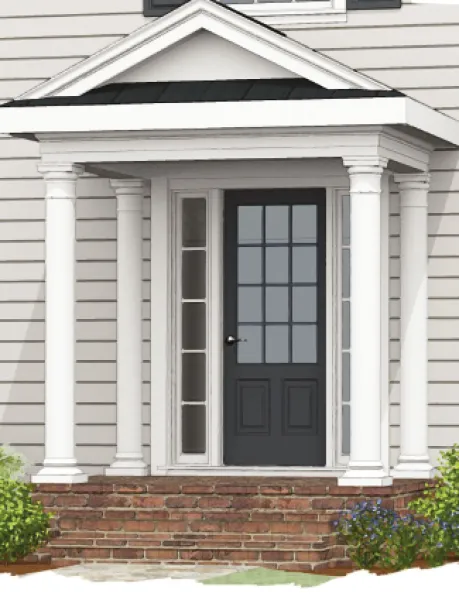 Features of the Lancaster Portico Style
Finish the look with a new 12-lite paneled door and sidelites (pictured)

Gable Style Portico
Beaded Ceiling with Crown Moulding
Hardie® Soffit
2, Polycast 8" Round Columns
2, Polycast 8" Round Half Columns
Standing Seam Metal Roof Standing Seam Metal Eyebrow
Hardie® Smooth Panel in Gable
Options include Square Columns, Stone Bases, Railings, Gutters and Electrical.
Add Character to Your Home
With A Lancaster Style Portico
See your New Front Porch before You Commit With EXOVISION™
EXOVISION™ allows clients to see what their home will look like with their new front portico before they commit to a contract. Clients consult with our renovation experts to decide on the best porch options for their home. They can then get a preview of what their renovated home will look like through EXOVISION. If the client decides to use EXOVATIONS contractors for the renovation, the EXOVISION fee will be deducted from their price.
View Our Work
Check out our customer porch reviews and browse through some front portico before and after photos to get a better idea of our work. If you would like to learn more about installing a portico or front portch on your home, contact us today!