What Reality TV Teaches Us
About Home Renovations
Renovation TV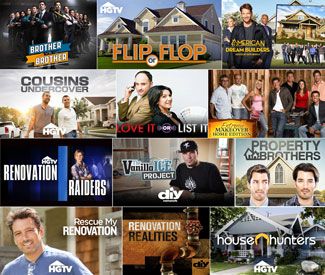 It's no secret that home renovation TV is extremely popular. In 2013, HGTV was the second most-watched channel on weekend cable behind ESPN. If you add in the other home TV shows on other networks, then it's clear that we're hooked on watching homes go from ugly to showstopper.
Many contractors are concerned by these shows. Why? They believe reality TV sets unrealistic expectations for budget, timeline, and ease of project. In fact, many contractors dedicate website pages to explain how reality TV is all fantasy and not the way renovation projects really work.
EXOVATIONS® believes that reality TV teaches its viewers many of the things we know to be true about home remodeling projects:
If scope, materials, and labor are properly measured and defined, then homeowners can determine how much of their wish list they can achieve.
If the project is properly managed, then the renovation project will come in on-budget.
If the project is properly managed, then the renovation project will come in on-time.
If the project is properly managed by one person/company, then the project will run smooothly.
---
At EXOVATIONS, we're not afraid of committing to on-time, on-budget, and smoothly run renovation projects, because for almost 20 years, that's exactly what we've delivered.
Experience how remodeling should be done. Experience EXOVATIONS today
EXOVATIONS Renovation Reality
This 3 minute time-lapse video shows a complete home exterior remodel from start to finish including the installation of a new front portico, roof replacement, gutter replacement, siding replacement and new shutters.
The Importance of Real Process
Ever talked to someone who had a renovation project that seemed to never end, the bills kept piling up and the experience was nothing but painful? Chances are, they were working with a contractor who doesn't have a real process. As you see on reality TV, process and project management is what keeps home renovations ON-TIME, ON-BUDGET and SMOOTH. Without it, you are guaranteed chaos, project overruns and what will feel like a never-ending project.
EXOVATIONS follows a proven process that delivers on-time and on-budget home exterior renovation projects.