Composite Decks

Composite decks bring together the look of wood and the durability of plastic to create a longer lasting alternative to wood decking.
The Composition of Composite Decks
Plastic shields the wood from moisture and insect damage, preventing rotting and splintering. Wood protects the plastic from UV damage while providing a natural, attractive look and feel. The result is decking and railing products that require only periodic cleaning to stay beautiful for years to come - no need for sanding, staining or painting, ever.
Composite decking is engineered to overcome ALL of the problems associated with wood decking including, cracking, rotting, splitting, expanding, shrinking, molding, and the inability to easily clean surfaces, just to name a few.
Composite decks enjoy the beauty of wood and the durability of plastic. However, not all composite decks are the same. The industry is riddled with inferior product that does not deliver the manufacturers' durability claims. There is only one brand of engineered decking that EXOVATIONS® has found to have proven product quality and durability.
EXOVATIONS® is proud to be a top certified contractor for TimberTech and Fiberon composite decking products.
About Composite Decks & Railings
Composite decking is engineered with a low-sheen, high-traffic technology that makes it last decades longer than any other product on the market. Ninety-five percent of all material used in composite decking is reused plastic shopping bags, reclaimed wood, used pallets and sawdust, making it both a durable and earth friendly product.
Composite deck materials are thoroughly tested for environmental and durability conditions as well as sturctural properties and installation techniques to ensure compliance with International Residential Codes (IRC) and International Building Codes (IBC).
Benefits of Composite engineered Decking
Depending on the product selected, each composite deck board is protected by either 3 or 4 sides with a protective shell.
The composite deck cap or "shell" is virtually indestructible and protects the exposed surfaces.
Requires no sanding, staining or painting...ever! Hassle-free maintenance includes occasionally soap and water cleaning.
Will not rot, warp, crack or splinter.
Will bend to create curves and patterns.
Real wood grain patterns offer the beauty of wood, but with decades more life.


Will not deteriorate due to harsh weather or insects.
Splinter-free and has excellent traction, even when wet.
Contains no toxic chemicals or preservatives.
Resists damage from moisture and sunlight, making it the natural choice for pools, hot tubs and spas.
Available in a wide range of colors and finishes to suit any style.
Environmentally friendly, as composite decking is made from reclaimed plastic and wood.
Add Outdoor Living Space to Your Home
With Beautiful Decking!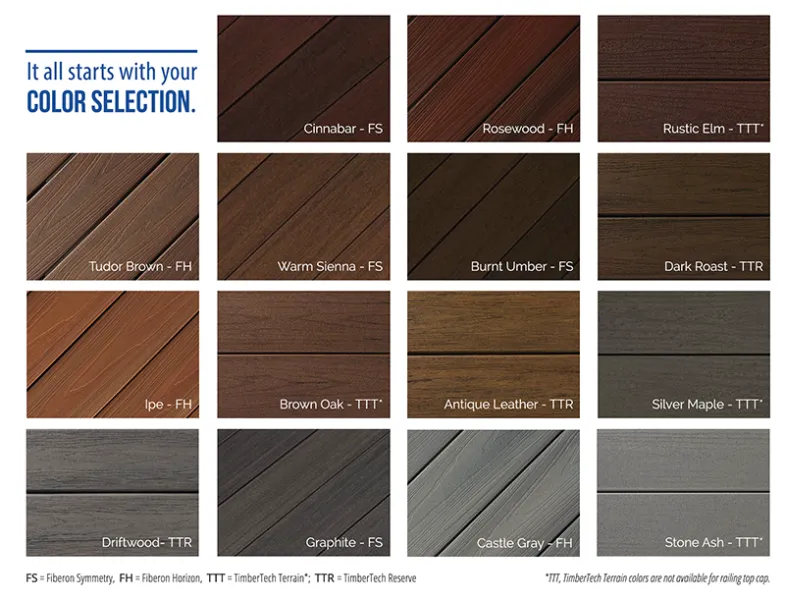 Composite deck board Color Options
Rich, saturated color is engineered right into the board. With so many color options, you will sure to find one that suits your style and your home. The unique streaking and diverse color ranges combine to create a rich, realistic hardwood appearance. Best yet, the color will last the lifetime of the deck without fading, scratching, staining or collecting mold.

See your New Deck before You Commit With EXOVISION™
EXOVISION™ allows clients to see what their home will look like with their new deck through EXOVISION. If the client decides to use EXOVATIONS contractors for the renovation, the EXOVISION fee will be deducted from their price.

View Our Work
Check out our customer deck installation reviews and browse through some before and after deck photos to get a better idea of our work. If you would like to learn more about installing Deckbrella for your home, contact us today!