Deck Design Ideas
After determining the style, size, purpose, and material type for your deck, there are still several key design features that can be added to truly create a unique outdoor living space for your home.
The Importance of Detail
At EXOVATIONS®, we believe that it is the details that make a living space unique. With that in mind, there are several facets of deck design that really lend themselves to unique features and accents. Based on our experience, here are the three main areas in which an outdoor living area can be truly made your own: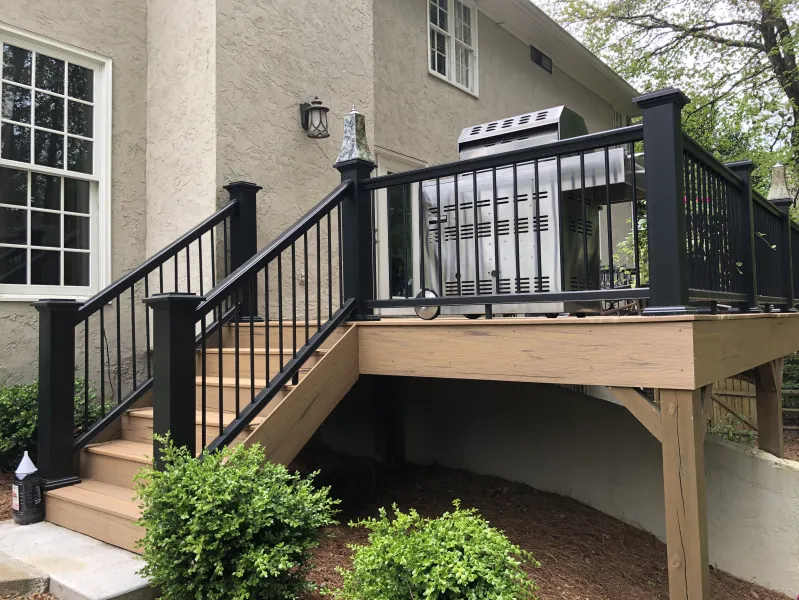 Deck Railing
While often overlooked, deck railing is a great design element that can add a great deal of personal flair and visual interest to a deck. From wood to glass, the material choice can completely change the look of a deck from traditional to contemporary. Wooden railing lends itself to intricate design work and can be stained a variety of colors depending on personal taste. More contemporary railing materials such as glass and acrylic do wonders for opening up the view and provide a very modern and stylish atmosphere.

Deck Stairs
Perhaps even more overlooked than deck railing, the design options for stairs are nearly as vast. From a design standpoint, both the dimensions and building materials are the two most important elements in creating a unique style for your project. Wide stairs can create an impressive focal point for your deck and provide a point of interest. Materials such as wood and stain create a solid, traditional feeling design while glass and metal work to create a modern, clean feel.

Ready to EXOVATE?
Schedule An Appointment Today!
Stonework
Stone can create an impressive style that is sure to last many years.
For both decks and patios, inlaid stone can create an impressive style that is sure to last many years. Patio design really lends itself to a great deal of custom stone and inlay options that provide the homeowner with a wide range of customization options. From paver stones to brick, the design options for patios and decks are nearly as limitless as the owner's imagination.

Not Sure What Deck Style You Want?
Learn More About Deck Design Styles
From intricate wood railings and wide stairs to beautifully inlaid stone, the beauty of an outdoor deck or patio really shines through in the details. At EXOVATIONS, we believe that attention to detail is what sets us apart. Whether you have a design already in mind and want to focus on adding beautiful details or are starting from scratch, we are here to help you with all of your deck and patio design needs.

See your New Deck before You Commit with Exovision™
EXOVISION™ allows clients to see what their home will look like with their new deck through EXOVISION. If the client decides to use EXOVATIONS contractors for the renovation, the EXOVISION fee will be deducted from their price.

View Our Work
Check out our customer deck installation reviews and browse through some before and after deck photos to get a better idea of our work. If you would like to learn more about installing Deckbrella for your home, contact us today!