Best Facelift Award
2014
EXOVATIONS presents the best exterior facelift award winner selected by our customers.
Lowe Home Wins Best Facelift of 2014
EXOVATIONS customers and fans selected the Turman home as the winner of the 2014 Best Facelift Award contest. Seven finalists were selected by the EXOVATIONS team and the rest was up to our customers. All seven received votes, but the Turman house topped them all with an overwhelming 38% of all votes. The second highest scoring home was the Doherty home, capturing 23% of the vote.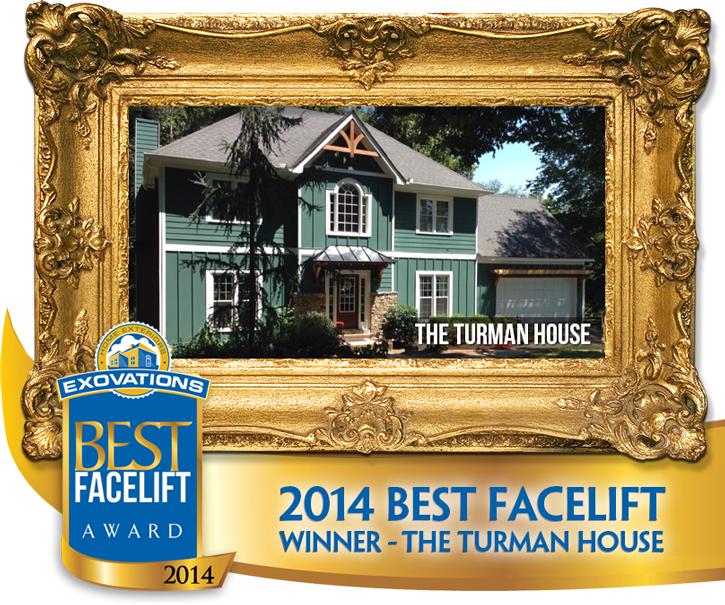 Turman Home Remodeling Details
Like many of our home exterior facelift projects, the Turman renovation began with a picture. The homeowner designed the exact front porch he wanted for his home and rough sketched it out on paper. With several ideas and wishes for his home's exterior, Mr. Turman put the challenge to EXOVATIONS to transform his home into the one he so clearly envisioned in his mind. Once the portico fell into shape, Mr. Turman could see that his home's amazing transformation was exactly what he hoped for.

The Lowe project included the following projects:
FRONT PORCH / PORTICO: Installed a metal hip style front portico cover 6' x 2' with 2 cedar gable brackets supporting it. The portico has exposed pressure treated framing.

GABLE BRACKETS: Installed 2 cedar gable brackets ..1 in front gable and 1 on right side gable.

TRELLIS: Installed a cedar trellis built over the garage door, using the same bracket style that was installed on the portico.

SIDING: Removed all stucco from the front of the house. Installed new frieze board in front. Installed lap siding and board and batten style. Installed a 1 x 10 band across the entire front and right side (including chimney) to seperate the floors. Installed a 1 x 6 smaller band to seperate the top of the foyer wall to the foyer gabled section.

TRIM ROT: Replaced 1 leg of the garage door frame with a 2 x 8 pressure treated. Replaced brickmold on the right side twin, and all windows on the back deck. Replaced the nosing on all windows on the back deck.

WINDOW TRIM IN FRONT: Removed brickmold and installed 1 x 6 trim around all front windows and entry door. Used a PVC 1 x 6 on the 1 front radius window.

SOFFIT: Installed all new solid soffit in the front gabled area and perforated soffit on all front hip areas.

STONE: Installed real stacked stone 5' high, on either side of the entry door unit, and the adjacent return walls.

PAINT: Pressure washed, primed, and painted all surfaces. Painted the metal chimney shroud.
Get
Inspired!
Thinking about remodeling your home's exterior? Need ideas? Take a look through our photo gallery to see some of our clients amazing home exterior transformations.
Winner - Best Facelift of 2014