Hinged Patio Door/French Door
A hinged patio door is an excellent way to turn a boring entrance from your deck into something quite eye appealing.
Hinged Patio Doors / French Door
Commonly referred to as a French door, a hinged patio door is an alternative to a sliding door, adding character, warmth and a certain sense of elegance to your deck or patio. Hinged patio doors are available in many materials, including wood, fiberglass, vinyl, and aluminum. Each material provides its own type of design style. A smooth hinged fiberglass unit can be perfect for modern designs, while a wooden door can make your space feel a bit more rustic or traditional. Fiberglass hinged patio doors can also be stained, offering the best combination of the warmth of wood and long lasting durability. A hinged patio door can do wonders for your home's overall appeal.
Fiberglass Hinged Patio Doors
A Customer Favorite
A customer favorite at EXOVATIONS® is our fiberglass hinged patio doors, offering customers the option to paint or stain the most durable doors available. Choose between Double Hinged patio doors or Center Hinged patio doors, which both offer an advanced door design that protects from water infiltration on all sides, preventing warping, delamination, rotting and the development of mold and mildew. Also, the superior threshold construction and unique weephole design allow water to drain away from the interior while preventing dirt and dust from getting in your home.
Add Character to Your Home
With French/Patio Doors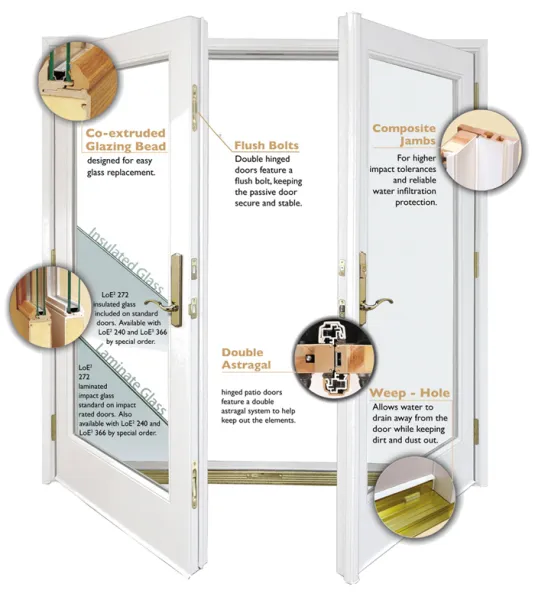 Features & Benefits of Fiberglass Hinged Door Units
High-Impact Fiberglass Door skins.
Full composite frames with each and every door system.
High performance composite jambs for higher impact and water protection.
Have sweeps with three layers of weather stripping.
Center hinged door jambs include screen channels.
Waterproof composite edging.
Feature innovative weep-hole cover and threshold design.
See your Door Replacements Before You Commit with EXOVISION™
EXOVISION™ allows clients to see what their home will look like with their new entry doors before they commit to a contract. Clients consult with our renovation experts to decide on the best replacement door options for their home. They can then get a preview of what their renovated home will look like through EXOVISION. If the client decides to use EXOVATIONS contractors for the renovation, the EXOVISION fee will be deducted from their price.
View Our Work
Check out our customer door replacement reviews and browse through some exterior door before and after photos to get a better idea of our work. If you would like to learn more about installing new replacement doors for your home, contact us today!