Best Facelift Award
2013
EXOVATIONS presents the best exterior facelift award winner selected by our customers.
Easom Home Wins Best Facelift of 2013
EXOVATIONS customers and fans selected the Easom home as the front runner in the 2013 Best Facelift Award contest. Nine finalists were selected by the EXOVATIONS team and the rest was up to our customers. All nine received votes, but the Easom house topped them all with an overwhelming 33% of all votes. The second highest scoring home was the Shufelt home, capturing 17% of the vote.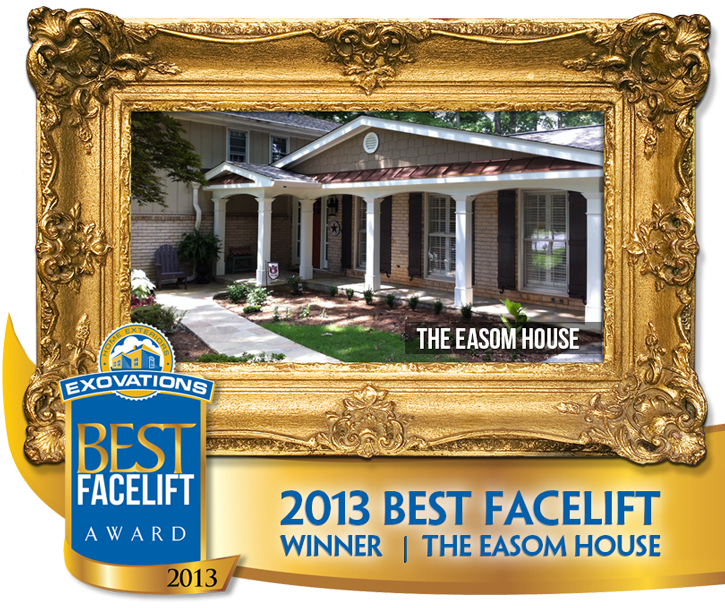 Eason Home Remodeling Details
Like many of our home exterior facelift projects, the Easom renovation began with a picture. The homeowner found a picture of a home with the exact front porch she wanted for her home.
Tired of her home's outward appearance, Ms. Easom put the challenge to EXOVATIONS to transform her Decatur, Georgia home into the one she found in the photo. In just 5 weeks, their home exterior became the talk of the neighborhood and the home the Easoms had only dreamed about.
The home renovation included the addition of a portico and front porch with a gabled roof supported by no-rot PVC columns. Copper metal eyebrows were added across the span of the porch roof and HardiShake fiber cement siding shingles accented the gables for a craftsman decorative style. A beadboard ceiling and a replacement wood door with custom sidelites in craftsman style helped complete the new front entry. A horizontal band of fiber cement siding was added to the front elevation to give separation between the new HardiPlank shake siding above it in the eaves and the existing vertical siding beneath. New vinyl board and batten shutters now adorn the windows and a wide flagstone walkway meets the new stone stoop. See before and after pictures below.
Because of their home's amazing transformation, several of the Easom's neighbors are inspired to find out what an EXOVATIONS exterior facelift can do for their home.
Get
Inspired!
Thinking about remodeling your home's exterior? Need ideas? Take a look through our photo gallery to see some of our clients amazing home exterior transformations.
Winner - Best Facelift of 2013