Hardboard Siding & Pressboard Siding
How to determine if your home has problematic hardboard or pressboard siding.
Pressboard Siding
Pressboard siding, also called synthetic wood siding, or hardboard (not to be confused with HardiePlank®) siding, is mainly comprised of wood fibers, flakes or chips that are held together by glues and resins. This type of siding was extremely popular from the 1980's to mid 1990's as a low cost alternative to other existing house sidings.
In 1994, pressboard siding gained national attention when a class action law suit settlement against some of its largest manufacturers dictated that anyone who owned property constructed with their hardboard siding between January 1, 1980 and January 15, 1998 (dates vary by manufacturer) could be reimbursed for damages caused from the siding (if any). Following the class action suit, almost all manufacturers ceased production of their hardboard siding products.

Potential Issues With Pressboard Siding

Pressboard siding naturally absorbs water and swells slightly, but with proper installation and ongoing maintenance that absorption rate can be kept to a safe level. The real trouble occurs from improper installation. Improperly installed hardboard siding can undergo serious deterioration including buckling, rotting, softening, blistering, severe swelling, mildew, and insect infestation. Water passes through improperly caulked joints, sunken nail holes and the cut edges that are located near the ground. Water logged sidings will eventually form bulges, swellings, mildew and finally rot. Direct application of the pressboard siding onto masonry materials also allows water to seep in easily.

How You Can Tell If Your Home Has Pressboard Siding
The best way to tell what type of siding is on your home, is to go to an unfinished area like the attic or garage, and pull back the tar paper from the back of the siding and look for markings. See if you can locate either the manufacturer's name or AHA code (The American Hardboard Association). You search the Internet for the AHA code to determine the manufacturer of the product, the type of siding it is, and where it was made. If you do not see any words or numbers, use the photos above to help you find specific markings for two of the largest selling brands of pressboard siding, IP's Masonite Omniwood and LP's Inner-Seal. Other pressboard siding brand manufacturers include Georgia Pacific (GP), ABTiCO or ABITIBI-PRICE, Weyerhaeuser, and Boise Cascade.

Get Rid of Problematic Siding
With Help From a Certified Contractor
What To Do If Your Home Has Pressboard Siding
First of all, just because your home has pressboard siding, does not necessarily mean that you have a problem. The first thing you will want to do is assess the condition of your siding.
1. No Damage Noticeable
If your hardboard siding is not showing any signs of damage, then consider yourself lucky, but please make sure that you do the care and maintenance steps listed below to keep that luck going strong, as it is possible to have unseen damage with these types of pressboard siding products.
2. Slight Damage
If your pressboard siding is not showing severe signs of problems, but does have a few indications of water penetration (slight discoloration, rusted nails, etc.), the process of deterioration can sometimes be slowed by the regular application of paint and/or caulk. Unfortunately once hardboard siding has absorbed water, the damage has already been done, so this is not a permanent solution. Without replacement, the damaged hardboard siding will cause problems in the future.
3. Damage Requires Replacement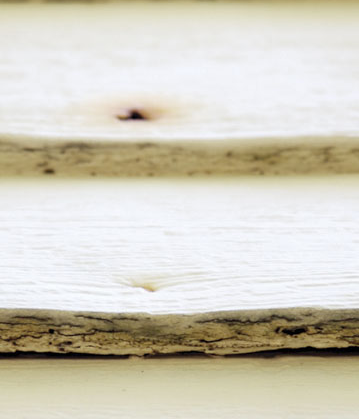 It is important to replace any pressboard siding that is rotted or swollen from water. That water is not just harming your siding, but it could be destroying your home's structure. Since pressboard siding products are no longer available, repairing a few boards becomes difficult. If you replace hardboard sections with suitable replacement products (fiber cement sidng or vinyl siding), you will definitely notice a difference between the 2 siding products in thickness (hardboard is thicker) and style/texture.
Replacing the entire wall will blend better with the overall look of your home and also allow inspection of the sheathing to make sure there is no moisture damage or potential mold to other areas. For absolute certainty that you are using a durable replacement siding product and a proper installation, be sure to contact a licensed contractor.
Pressboard Siding Care & Maintenance
Homeowners with hardboard siding on their homes MUST preform the following care and maintenance in order to prevent and slow-down future damage to the home.