Best Facelift Award
2017
EXOVATIONS presents the best exterior facelift award winner selected by our customers.
Lowe Home Wins Best Facelift of 2019
The votes are in! EXOVATIONS® fans have selected the Smith home as the winner of the 2017 Best Facelift Award contest. All 8 finalists received votes, with 3 of them pulling in the most fans. The Kray project came in 3rd, capturing 15% of the votes. In second place (22%) is the Foy project. The Smith home earned the top spot with 40% of the votes.
This is our 5th year for the contest. Will your home be the Best Facelift Award winner for 2018? Let's turn YOUR HOME into YOUR DREAM HOME today!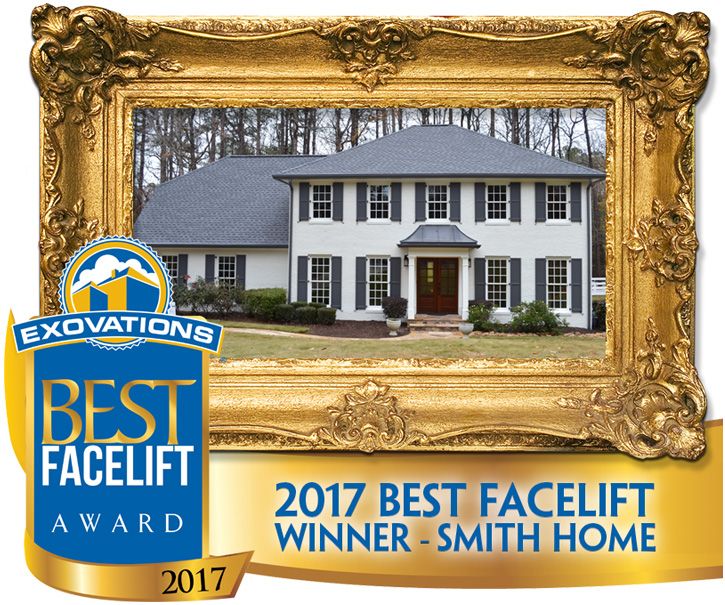 Smith Home Remodeling Details
The Smith Family wanted to update the look of their traditional brick home, but needed to find confidence to actually do it. They heard our ad about EXOvision - our design process that allows you to see your home's changes before you commit to the project - and scheduled an appointment.
The EXOVATIONS team discussed how an exterior facelift could achieve the desired appearance for their home. Working with our in-house Architectural Designer, the Smiths could not believe the possibilities for their home's new look and immediately made their decision to proceed with the renovation. EXOVATIONS did a complete renovation on the home's exterior, which included the construction of a Charleston-style front portico, replaced the steel door and sidelites with gorgeous wood double doors, replaced the weathered roof with a 50-year roof system with elegant architectural shingles and seamless aluminum gutters in a great accent color, replaced the drafty windows with energy-efficient windows, and updated the shutters in a complementary color. Perhaps the biggest change came from their decision to paint the brick, which completed the look they were seeking and definitely makes this home an absolute stunner!

The Smith project included the following projects:
FRONT PORCH & COLUMNS : A new Charleston-style portico with columns and a standing-seam metal roof was added to become the new focal point of the home.


FRONT DOOR: The old single steel door with sidelites were replaced with beautiful, wood double doors.


ROOFING: The old, weathered, 3-tab roof was removed and replaced with a 50-year GAF roofing system, including architectural shingles.


REPLACEMENT WINDOWS: Old drafty windows were replaced with ENVIROGUARD cellular PVC windows.


SHUTTERS: Replaced old panel shutters with updated panel shutters with s-hooks and iron hinges.


NEW GUTTER SYSTEM: Replaced failing gutters with 6" seamless aluminum gutters and downspouts.


PAINT: Pressure washed, primed, sealed and painted all surfaces, including painting the old red brick, in an updated color palette selected by the EXOVATIONS' color stylist.
Get
Inspired!
Thinking about remodeling your home's exterior? Need ideas? Take a look through our photo gallery to see some of our clients amazing home exterior transformations.
Take a closer look at the details...