Are you going to Love it or List it?
Some tips from the experts that may help you decide.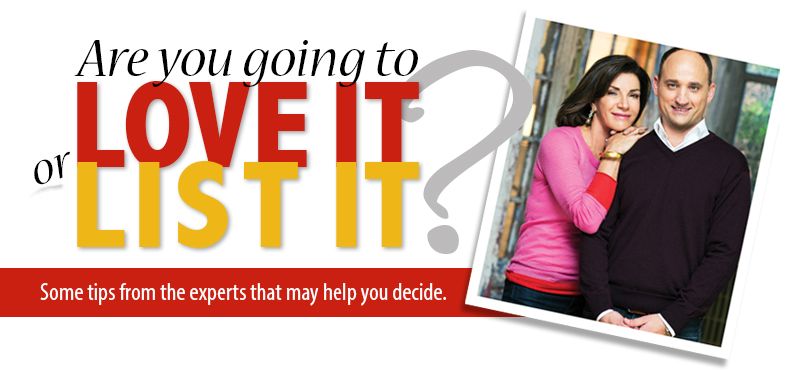 If you've never watched HGTV's "Love it or List it," it's not too hard to figure out from the title what the show is all about. Each episode follows homeowners as their home undergoes a significant remodeling in order to either list to sell or to stay put should the renovation fulfill their new needs. The majority of these homeowners often find that it's more affordable and desirable to make their own home more lovable than it is to purchase a new home with their wish list of upgrades. However, staying put is not always an option.
If you are considering listing your home, it is important to understand that most homeowners do need to perform a few improvements in order to increase their home's value and to capture the price that they need to put into their next home. Hopefully, this advice from the experts at HGTV and Remodeling Magazine will help you decide to love it OR list it.
Curb Appeal

Even in hot housing markets, "If people drive by your home and are not impressed they're not going to walk inside," says Dick Gaylord, who has sold real estate for 27 years.
"If I were going to spend money on a property, I would really work on making sure the curb appeal is strong," says Realtor Ron Phipps. Phipps suggests adding a front porch to create interest to the exterior of a flat house, for instance. "You really want to convey a sense of welcome," he says. "If all your remodeling is on the inside but the outside of the house is challenging, you'll never have a chance to even show the inside."
Curb appeal is a major reason that fiber cement siding, including HardiPlank® siding, ranks so highly on the 2015 Cost vs. Value report, says editor Sal Alfano. Replacement siding also offers the added value of being low maintenance, an important issue for cost-conscious buyers. In addition, new siding, windows and entry doors not only make your home more durable and efficient, but when installed with good planning and design, they can dramatically update a home's appearance ... many times so much that the homeowner decides to LOVE IT instead of LIST IT.
Which Home Improvements Pay Off?
While most homeowners consider kitchen and bathroom remodels a must for selling, realtors and contractors find that basic maintenance, such as replacing siding, windows, doors and roofs, are frequently more important than an awesome kitchen.
"If the roof is leaking, buyers won't get beyond that," says Ron Phipps. "I don't care how awesome the kitchen is." For homeowners who plan to stay in their homes, basic maintenance will end up costing far more if left unattended, as water will ultimately destroy the home's structure.
According to the Remodeling Magazine 2015 Cost vs Value Report for the Atlanta housing market, you're less likely to recoup your investment in a major kitchen or bathroom remodel than you are to get back what you spend on basic home maintenance such as new siding and doors. Fiber cement siding recoups 99.7% of its cost and vinyl siding recoups 87.6% of its cost, according to the study. Replacing front entry doors can recoup over 100% of their cost and new garage doors have a 94% return on investment.
"Buyers want to take the basic systems for granted," says Sal Alfano, Remodeling's editorial director. "They assume the roof doesn't leak and the air conditioning, plumbing and windows work. Maintenance can chew up a lot of cash quickly, and people are afraid of that."
Home Maintenance
New kitchens and baths lose some of their glamour if there's water in the basement when a potential buyer comes to look at your house, says Alfano. Every home-owner's first priority should be keeping the existing structure sound. "I've been in a lot of houses where people are spending thirty or forty thousand dollars to remodel the kitchen, but then you walk into the basement and there's a musty smell because water is leaking through the foundation. It's more important to resolve those items first, and get the luxuries later, even if the homeowner plans to stay in their home."
Ron Phipps suggests thinking about it from a buyer's perspective. "I was with someone recently who was going to spend money to remodel their bathroom. But the roof is two layers and 30 years old." For a buyer, knowing the roof needs to be replaced is a much bigger issue than living with a functional, but dated, bathroom, Phipps points out.
Most buyers have a limit on what they can spend for a house. If they know they don't have to spend money on the upkeep of basic systems, then they're more likely to buy the house and consider upgrading the kitchen or baths themselves. More than 70% of buyers who purchased existing homes knew what they were going to remodel before they even closed on the deal, according to HanleyWood's Housing Continuum Study, conducted in conjunction with Harvard's Joint Center for Housing Studies. The same study showed that 30 to 40 percent of buyers of existing homes made home improvements within six months after purchase.
So ... are you going to LOVE IT or LIST IT? Let the experts at EXOVATIONS help you decide by creating a curb appeal remodel that will get you the most return on your investment. Get started today by requesting a free in-home consultation.
SOURCES: Article exerpts from "Which Home Improvements Pay Off?" by Kathy McCleary, HGTV ONLINE and Remodeling Magazine's 2015 Cost vs. Value Report Atlanta.
2015 Cost vs Value Report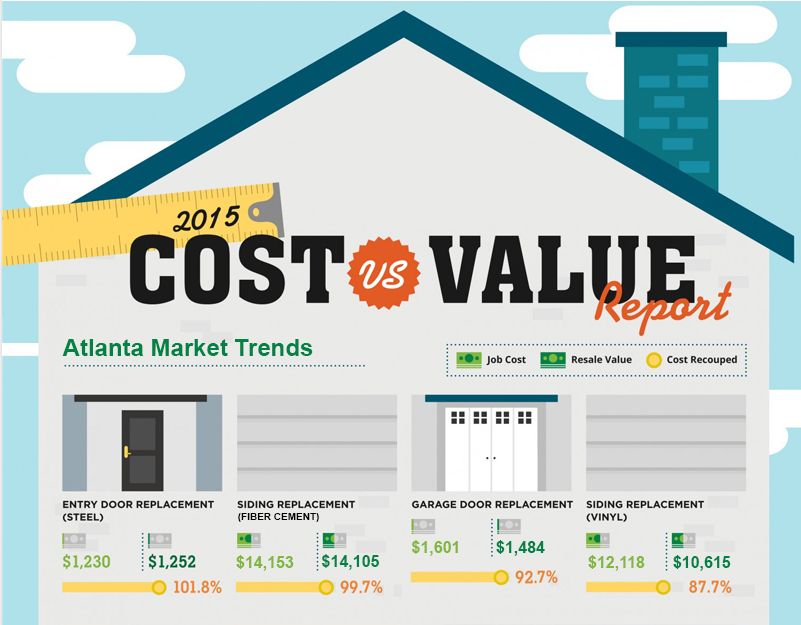 2017 COST VS VALUE | ATLANTA AREA
PROJECT TYPE
Avg. Job Cost
Avg. Resale Value
Percent of Cost Recouped
Deck Addition (composite)
$1,234
$1,248
101.1%
Siding Replacement (fiber-cement)
$14,153
$14,105
99.7%
Garage Door Replacement (mid-range)
$1,601
$1,484
92.7%
Siding Replacement (vinyl)
$12,118
$10,615
87.6%
Siding Replacement (foam-backed vinyl)
$15,308
$12,569
82.1%
Garage Door Replacement (high-end)
$2,957
$2,421
81.9%
Deck Addition (wood)
$10,096
$8,186
81.1%
Stone Veneer Accent
$7,229
$5,596
77.4%
Window Replacement (vinyl)
$10,338
$7,739
74.9%
Window Replacement (wood)
$11,363
$8,368
73.6%
Garage Addition
$50,938
$36,950
72.5%
Window Replacement (wood)
$17,458
$12,172
69.7%
Grand Entrance
$7,535
$5,068
67.3%
Deck Addition (composite) - small
$15,956
$10,405
65.2%
Bathroom Remodel
$16,784
$10,722
63.9%
Entry Door Replacement (fiberglass)
$2,932
$1,848
63.0%
Family Room Addition
$84,663
$52,878
62.5%
Bathroom Remodel
$54,154
$32,697
60.4%
Bathroom Addition
$76,961
$45,214
58.7%
Major Kitchen Remodel
$113,192
$66,427
58.7%
Roofing Replacement - LARGE
$35,559
$20,614
58.0%
Garage Addition (high)
$84,229
$48,703
57.8%
Master Suite Addition
$236,770
$135,929
57.4%
Deck Addition (composite) - large
$36,567
$20,926
57.2%
Roofing Replacement - SMALL
$19,325
$10,854
56.2%
Bathroom Addition
$39,470
$22,029
55.8%
Home Office Remodel
$29,202
$16,054
55.0%
Sunroom Addition
$75,544
$39,228
51.9%
Backup Power Generator
$12,058
$5,914
49.0%